AC Forum and PCMA Release Digital Events Outlook Report & Establish Strategic Partnership
AC Forum and PCMA collaborated last year to survey a global network of professionals who conducted a digital event within the previous 15 months. Following a sneak peek of the findings at PCMA's Convening EMEA conference in Lausanne in October, the full report, "Digital Events Outlook: Insights, Behaviours, Best Practices" is now available. The release of the research findings coincides with a two-year strategic partnership intended to strengthen both organizations through collaboration, advocacy and advancing professional development of their respective communities.
Demystifying Myths About Digital Events
Funded by the PCMA Foundation, the report demystifies key myths about digital events, and provides Event Organisers with a checklist for planning future digital events. The full report and Digital Event Planning checklist can be downloaded here.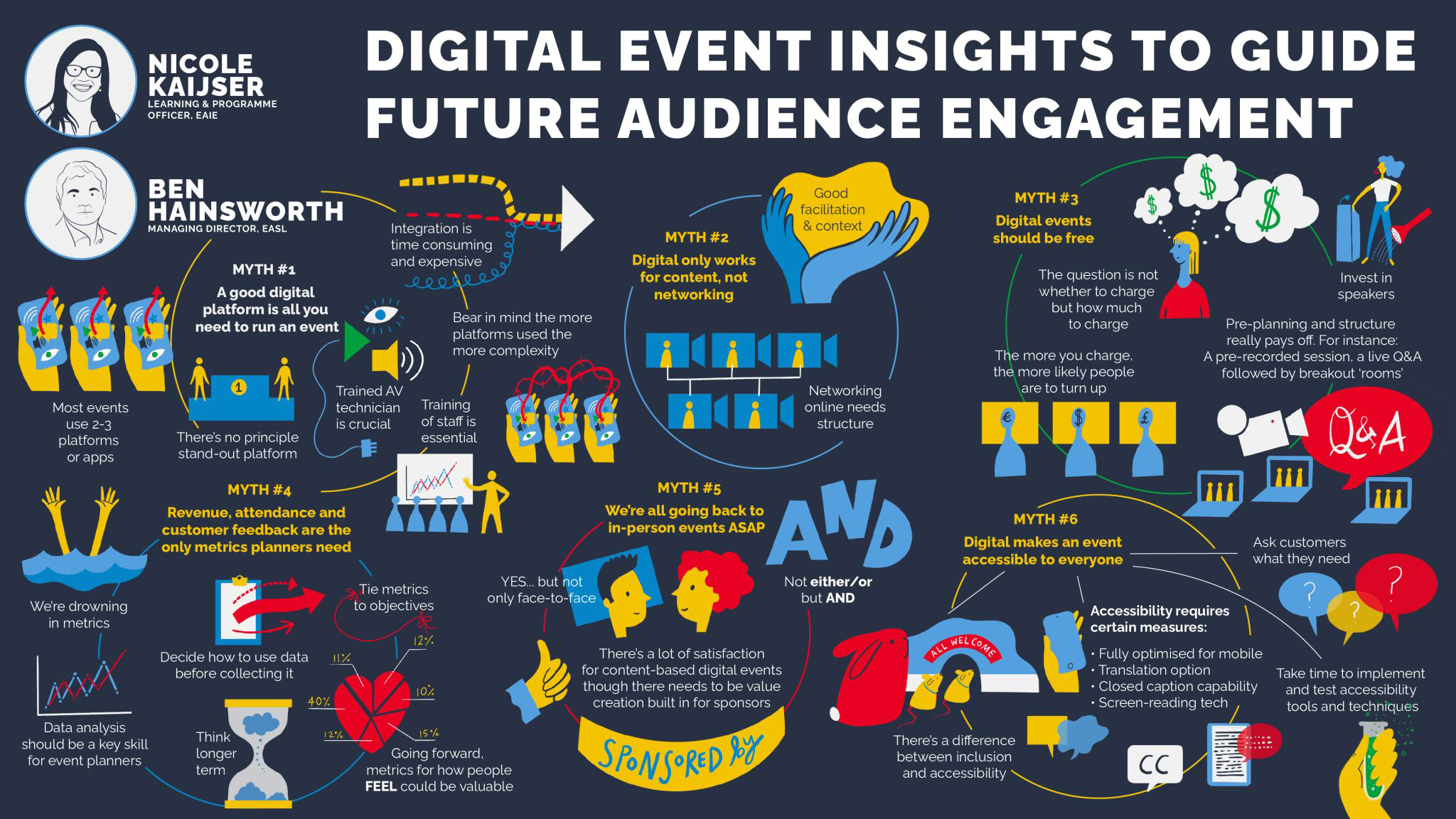 Click image to enlarge
"Without question the pandemic has been a wake-up call for everyone, every industry. It changed the way our members and audiences engage with business events, but not their desired outcomes from business events. This important research validates that sentiment. We have established an excellent relationship with AC Forum over the few years, and we are delighted to continue with a formalized strategic partnership that will benefit our communities and the global business events industry."
– Sherrif Karamat, CAE, PCMA President and CEO
Following the survey of professionals (97% Association, 3% Corporate), a Steering Committee, comprised of both PCMA and AC Forum members who were instrumental in designing the project reviewed the research and provided instrumental feedback. The consensus from these industry leaders is that the research findings provide valuable and actionable insights for businesses and organisations engaging audiences and customers in digital, hybrid and omnichannel events. Committee members include Lisa Astorga (ISTH), Carola van der Hoeff (FIP), Tracy Bury (World Physiotherapy, AC Forum President), Finola Quinn (AC Forum), and Birgit Uebelhör (UEG).
The new strategic partnership will include, but is not limited to, co-creation of education and joint activities that benefit the community including Convening EMEA 2022 and facilitate the exchange of knowledge and intelligence between the respective communities.
"We can achieve more when we work in partnership with organisations that share our values and objectives. Through this collaboration AC Forum and PCMA will be better placed to serve our respective members and ultimately the communities they all serve for wider societal and environmental benefit. We started 2020 with little data to inform critical changes that our associations were needing to make to deliver events and connect their own communities to advance knowledge and create impact; many in the health sector areas directly linked to responding to the consequences of COVID-19. Now as we enter 2022, we are better placed to make data informed decisions arising from this research and the insights shared. We look forward to the ongoing partnership we have established to advance thought leadership and education for our members and the wider community."
– Tracy Bury, AC Forum President 2020-2022