AC Forum has several active strategic collaborations, which primarily focus on alliances for thought leadership and advancing association and congress management. These have been developed in line with AC Forum's current strategic plan and corporate relations policy.
Our Current Collaborations
The goal of this collaboration is to work together to promote AC Forum among Boardroom's readership (international associations, based in Europe and other continents), and to uplift the Boardroom reputation among the meetings industry.
AC Forum contributes an article to be published in each of the quarterly editions of the magazine (print and online). The two organisations share a strong alignment of interests.
Both are focused on delivering high quality, educational content for the associations sector.
AC Forum strives to inspire and encourage its members to achieve excellence in association and congress organisation through the open exchange of information, while Boardroom prides itself on its position as an expert source of information for association professionals.
Read the latest articles here.
"Boardroom's vision and mission are all about the education of associations based globally, and we feel there is a strong alignment between our two organizations. AC Forum is becoming more diverse and inclusive, and it perfectly makes sense – after all, the issues associations are facing are common across organizations and sectors."
Cécile Koch, Founder & Managing Director, Boardroom
ICCA and AC Forum have a collaborative partnership to create a high-level annual signature event on the Future of Healthcare Meetings.
The programme is targeted to C-level, senior management participants of both associations and ICCA member suppliers.
The objective of the event is to create a platform where high level discussions and knowledge sharing will provide new solutions and strategies in running effective and more sustainable global healthcare meetings in future. The innovative event programme, co-created by a joint Programme Committee, creates a unique environment for valuable networking and knowledge sharing.
"As we grow our Association Community, we are always looking to offer peer-to-peer networking and knowledge sharing opportunities in a trusted environment. We are very much looking forward to joining forces with AC Forum on offering a truly unique event for associations and suppliers. By working together, we believe associations and suppliers can be more effective in partnering up to reach the best outcomes of international healthcare meetings."
Senthil Gopinath, ICCA CEO
We are delighted to share the Best Practices for Healthcare Meetings report. ICCA and AC Forum joined forces to explore how healthcare meetings should evolve to stay relevant and engaging for future generations.
These best practices outline some of the key findings of a pre-event survey conducted amongst association executives and ICCA members and the outcomes from the presentations and conversations in Istanbul.
The event brought together 130+ delegates to address post-pandemic changes and the evolving needs of NEXTGEN healthcare professionals.
The discussions covered:
Associations' current strategies for healthcare meetings
Making healthcare meetings more valuable for NEXT GEN healthcare professionals
Healthcare meeting accreditation
Compliance – how do stakeholders work together to adapt and leverage new developments
How to become a brand ambassador for your organisation
Response Room Innovation Challenge – association and member case studies
The future of healthcare meetings SWOT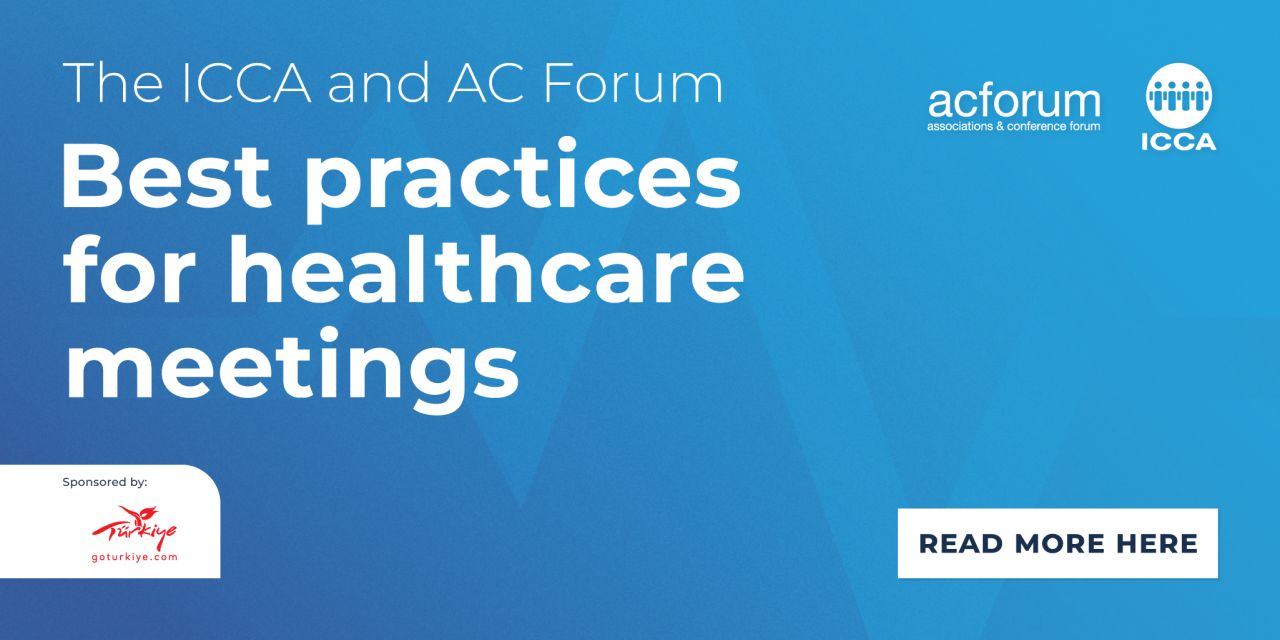 The collaboration agreement between AC Forum and the LCE is for an educational event on a topic of shared interest annually, in an LCE member venue.
The topic is selected to be of mutual educational benefit and the programme is co-created by a joint committee of the LCE and AC Forum and targeted to senior management of AC Forum members and LCE members.
The first event, at the Scottish Event Campus in Glasgow, was around the topic of 'The Language of Leadership', while the second in the series, at MiCo in Milan, offered the opportunity to train and develop skills in 'Persuasion in negotiation'. The third edition, on 'Web3 Learning Expedition – Impacts of Web3 in the Event & Congress Industry', took place in Paris on 26 & 27 June 2023.
AC Forum's and PCMA's strategic partnership seeks to strengthen both organisations through collaboration, advocacy and advancing professional development of their community by co-creating and organising activities mutually beneficial to the respective membership, facilitating the exchange of knowledge and intelligence between the respective membership, and enhancing the profile of association professionals and the business events they organise as true drivers of social and economic change. Further details of the Strategic Partnership Benefits for AC Forum members are available in the Member-Only section.
In 2021, AC Forum and PCMA partnered on a research study, funded by PCMA Foundation, into digital events. The full report, "Digital Events Outlook: Insights, Behaviours, Best Practices", and Digital Event Planning checklist can be downloaded here.
Registration is now open for Convening EMEA 2023, taking place on 20-22 September in Copenhagen. More information here. AC Forum members can avail of a discount on registration – details in the Member-Only section.
AC Forum is pleased to collaborate with Solvay Brussels School on the 2023 edition of the Executive Master in International Association Management (EMIAM), along with the Federation of European and International Associations (FAIB), Visit.Brussels, Visit Flanders, European Society of Association Executives (ESAE), Wonderful Copenhagen and Union of International Associations (UIA).
Solvay's Executive Master provides a targeted, pragmatic, and action-oriented curriculum focusing on the specific challenges facing the association sector in today's economy. It empowers the participants to develop into efficient and effective leaders with a keen understanding of the economic, managerial and political landscape as well as practical skills in the management of international associations.
It is spread into 6 modules, each dedicated to a specific aspect of association management, namely Leadership & Change, Strategy & Change Management, Strategic Marketing & Communication, Project Management, Finances, and Governance & Sustainability.
Collaborative Learning Experiences (CLE) & Joint educational initiatives
We collaborate with other organisations to deliver key collaborative learning experiences (CLEs) and other educational events for our members. Aligned with our forward-thinking approach to education and recognising that the format in which people want to learn has changed, we aim to link strategic and operational considerations together. Mindful of this shift, we are committed to seeking out innovative learning opportunities and organising joint learning activities with partners, which align with our four key principles: education – specifically in terms of learning from each other and external experts, excellence – raising standards in association and congress management, innovation – sharing good practice and expanding thinking, and neutrality – providing a forum free from commercial influence.
Our progressive collaborations present a different value proposition to members, combining education and discovery, which reflect the societal changes in learning and personal development by challenging members to move out of their comfort zones and discover new opportunities and challenges put into context with external partners.
CLEs with the Leading Centres of Europe have taken place at the Scottish Event Campus in Glasgow in July 2019, exploring the theme 'The Language of Leadership', at MiCo Milano in June 2022, on the topic of 'Persuasion in Negotiation' and at the Palais des Congrès de Paris in June 2023, on the topic of  'Web3 Learning Expedition – Impacts of Web3 in the Event & Congress Industry'.

AC Forum has also organised joint online educational events on topics of mutual interest – with ICCA, 'Audience of the future – what does data show and how do we respond?', with LCE, 'Back to live – as we know it? The road of collaboration towards the future of association meetings' and 'The future of hybrid meetings', and with IPCAA, 'Moving together into a hybrid future'.

AC Forum organised a series of annual joint events with ICCA on the Future of Healthcare Meetings, attended by stakeholders across the field of healthcare meetings. The first event took place in May 2022, hosted by the city of Cannes, and the second in June 2023, hosted by the city of Istanbul.

As part of the strategic partnership with PCMA, AC Forum has co-organised sessions at Convening EMEA and Convening Leaders and will continue to team up with PCMA on joint sessions at future Convening Leaders and Convening EMEA meetings.

A joint event with the Switzerland Convention & Incentive Bureau discussing 'New meeting designs & approaches' due to globalisation, consumer behaviour and trends was held in January 2020.