Annual Meeting & General Assembly
The Annual Meeting, a 2½-day conference focusing on developments in association management and congress organisation, is held in January each year. The Annual Meeting programme is designed with input from members and the Education Working Group.
Contemporary topics and debates are supplemented with case studies to share experiences and innovations. External experts contribute on specialist topics. The principal governance meeting of AC Forum, the General Assembly, usually takes place during the Annual Meeting.
As the educational programme for each Annual Meeting is being built, members are invited to submit case studies to be considered to form part of the programme. All submitted case studies are reviewed by the Education Working Group and the Board.
The Annual Meeting and General Assembly are hosted by a different European city each year.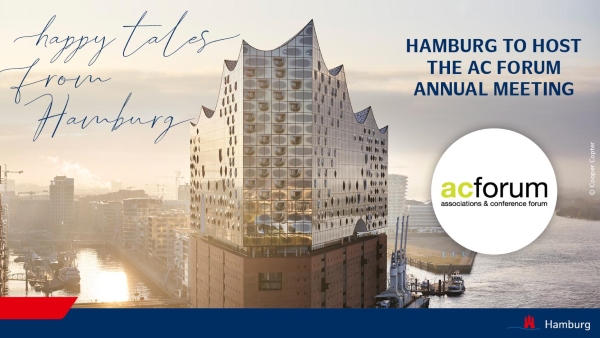 The AC Forum Annual Meeting and General Assembly 2024 will take place in Hamburg, Germany, 11-13 January.
Hamburg Convention Bureau says "We are thrilled to announce that the AC Forum Annual Meeting & General Assembly will take place in Hamburg. A great honour for the city!"
2023 | Rotterdam, Netherlands
2010 | London, United Kingdom
2020 | Helsinki, Finland
2009 | Vienna, Austria
2019 | Vienna, Austria
2008 | Amsterdam, Netherlands
2018 | Paris, France
2007 | Berlin, Germany
2017 | Frankfurt, Germany
2006 | Barcelona, Spain
2016 | Copenhagen, Denmark
2005 | Monaco
2015 | Barcelona, Spain
2004 | Madrid, Spain
2014 | Munich, Germany
2003 | Dublin, Ireland
2013 | Istanbul, Turkey
2002 | Vienna, Austria
2012 | Dublin, Ireland
2001 | Sophia Antipolis, France
2011 | Valencia, Spain